As we continue to navigate new phases of the Covid-19 pandemic, the list of things that someone might be anxious about is never-ending. To help individuals learn to live with their anxiety, Dr. Luana teamed up with Dan Harris and Leslie Booker to create a 10-day series of videos through the Ten Percent Happier app.
During mental health awareness month, Dr. Luana joined Vic Mensa & Lauren Jauregui and Jeremy Fall & Yung Pueblo to talk about mental health. Watch both clips today.
It never feels good to be anxious, but anxiety has a vital function. In this video, Dr. Luana shares her personal story that highlights how we can approach anxiety.
THE THREAT IS REAL.
YOUR EMOTIONS ARE REAL.
AND, IT'S OKAY IF YOU'RE NOT OKAY.
Skills for navigating the emotional waves of the ongoing Covid-19 crisis are within reach. Sign up to receive access to an online course for building skills to navigate stressful situations.
Never miss a beat. Read, watch, and listen to the advice and insight Dr. Luana is sharing with audiences around the world.
DR. LUANA MAKES HUNDREDS OF MEDIA APPEARANCES A YEAR. IF YOU ARE INTERESTED IN INTERVIEWING HER, VISIT HER MEDIA PAGE.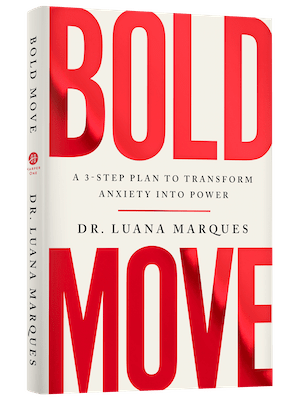 A 3-Step Plan to Transform Anxiety into Power
Bold Move is Harvard-based psychotherapist Dr. Luana Marques' unique, tried and tested method to get you out of your rut and find the courage to create a more confident and meaningful life. Dr. Luana pinpoints the anxiety at the root of avoidance and shows how you can overcome it and achieve your goals.
"This book is a wonderful resource for anyone who has ever wondered if they are "a bit too anxious" and if there is anything they can do to feel more at peace. The text offers clear, scientifically-based information about adaptive levels of anxiety, anxiety disorders, and that "almost anxious" space in between. The use of diagrams, self-assessment tests, and self-help treatment forms guide the reader in a search to gain understanding of his or her symptoms, and the means to lessen their severity and impact. The best thing about this book, however, is Dr. Marques' voice, energy, and engaging personality. You never feel as though you are stuck in an advanced psychology seminar. Rather, reading this book is like sitting with Dr. Marques in her beautiful office, overlooking the Boston skyline, and having a lovely, personal chat."
Risa B. Weisberg,
Ph.D. Associate Professor (Research), Brown University
"This is simply a great book. It brings together so much information about anxiety and worry, even if it is "just" almost, and it does so in a way that is easy to understand and apply to one's own life. The techniques presented for coping with anxiety and worry are practical, pragmatic, easily applied, and likely to be very helpful. This is an important book for persons troubled by anxiety and worry."
Richard G. Heimberg, PhD
David Kipnis Distinguished Faculty Fellow, Professor and Director, Adult Anxiety Clinic of Temple (AACT), Department of Psychology, Temple University
"One of the main goals of effective therapy for individuals with anxiety disorders is to "give away" as much of the treatment as possible – to have the patient themselves take over the role of therapist. In Almost Anxious, Dr. Luana Marques, herself a master clinician and researcher, provides patients and their family members with critical insights and important tools that they can use to more effectively help themselves on the road to better health."
Mark H. Pollack, M.D.
The Grainger Professor and Chairman, Department of Psychiatry, Rush University Medical Center
"Almost Anxious is an engaging, informative, and evidence-based book. Accessible to the general reader, it provides an abundance of useful tips for people struggling to cope with symptoms of anxiety."
Richard J. McNally, Ph.D.
Professor, Harvard University & Author, What is Mental Illness?
"Whether you are almost anxious or suffer from a full-blown anxiety disorder, this book provides concrete and proven cognitive and behavioral strategies for effectively dealing with the debilitating problems of anxiety. Dr. Marques, an expert clinician, wrote a masterful book that provides the reader with the knowledge and skills to turn the scary anxiety monster into a harmless pet. It is a must-read for any consumer."
Stefan G. Hofmann, Ph.D.
Professor of Psychology, Boston University & Author
The Becoming Bold Worksheet
The Becoming Bold Worksheet provides a framework to help you clearly identify what is getting in the way of you and your goals.
Keep up to date with Dr. Luana's latest news and interviews and receive occasional insights to help you make your next bold move.